This article explains how to install and configure the HealthSmart LTI v.1.3 integration with the Schoology Learning Management System (LMS).
The following configuration guidelines are intended to be used by district IT. Please schedule a 15-minute call with us to confirm the integration setup and initiate the data sync. To schedule the setup call, please contact support@etr.org.
---
What You Need To Get Started
A school/district digital subscription to HealthSmart.
School/district IT has scheduled an integration setup call with ETR.
---
Step 1: Click App Center -> My Developer Apps or follow this link: https://schoology.schoology.com/apps/publisher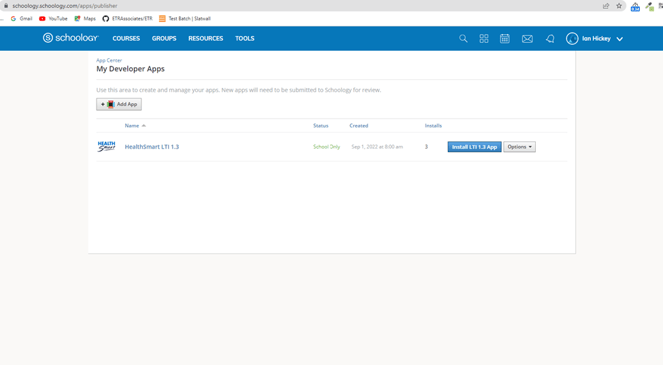 Step 2: Click the + Add App button to add a new organization app. The following screen is displayed: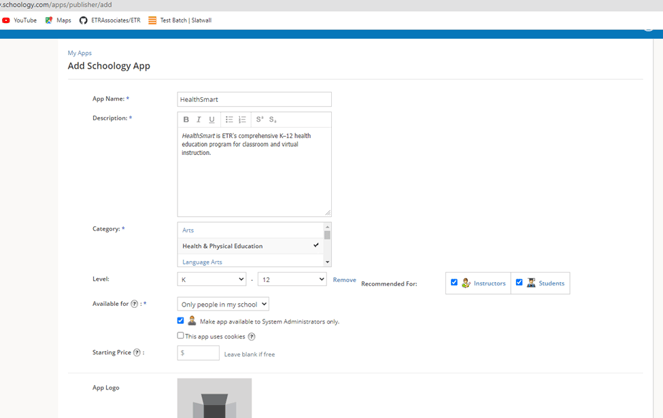 Step 3: For these settings, please use the following values:
App Name: HealthSmart
Description: HealthSmart – Where Good Health Starts. HealthSmart is ETR's skills-based K–12 health education program for classroom and virtual instruction.
Category: Health and Physical Education
Level: K (add range) 12
Recommended For: Instructors, Students
Available For: Only People in my school
   ☑️ Make app available to System Administrators only. (For initial testing)
   ☑️ This app uses cookies
Cookie Preload URL:
https://www.etr.org/healthsmart/?slataction=lti:oauth.preloadcookie
Starting Price: leave blank
Step 4: Scroll down to the next section. For the App Logo, please download the logo file: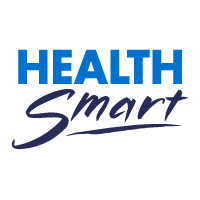 The other graphics fields can be left blank (for now).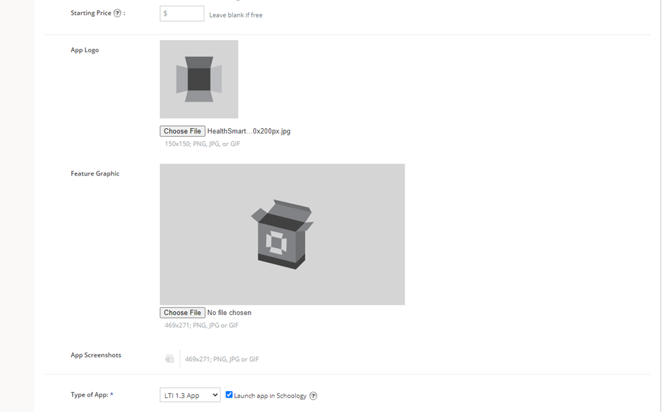 Step 5: Scroll to the final section and use the provided values.
Type of App: LTI 1.3 App
      ☑️ Launch app in Schoology
Can be installed for:
      ☑️ Courses (left navigation, course material selected, rich text editor, external tool)
Configuration Type: Manual
Privacy: Send Name and Email/Username of user who launches the tool
LTI Advantage Extensions:
☑️ Deep Linking
☑️ Assignment and grade Services
☑️ Names and Roles Services
☑️ Require System Administrators to configure settings for this App (for testing)
☑️ This application meets the Schoology Terms of Use
Example image (do not use text in image):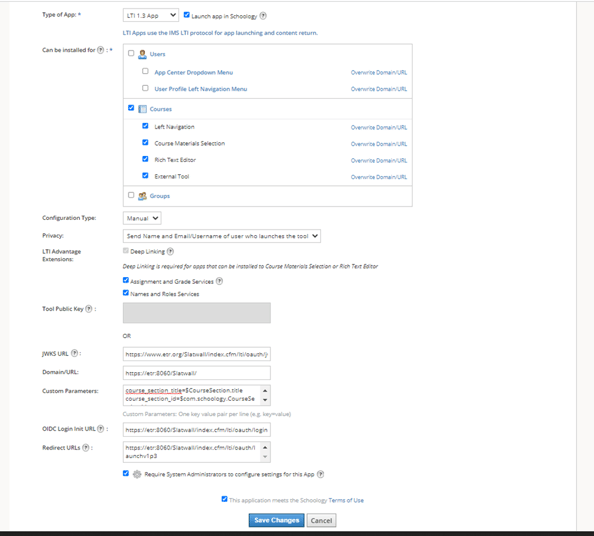 Step 6: Click the Save Changes button.
Step 7: Please make note of the Client ID and Client Secret.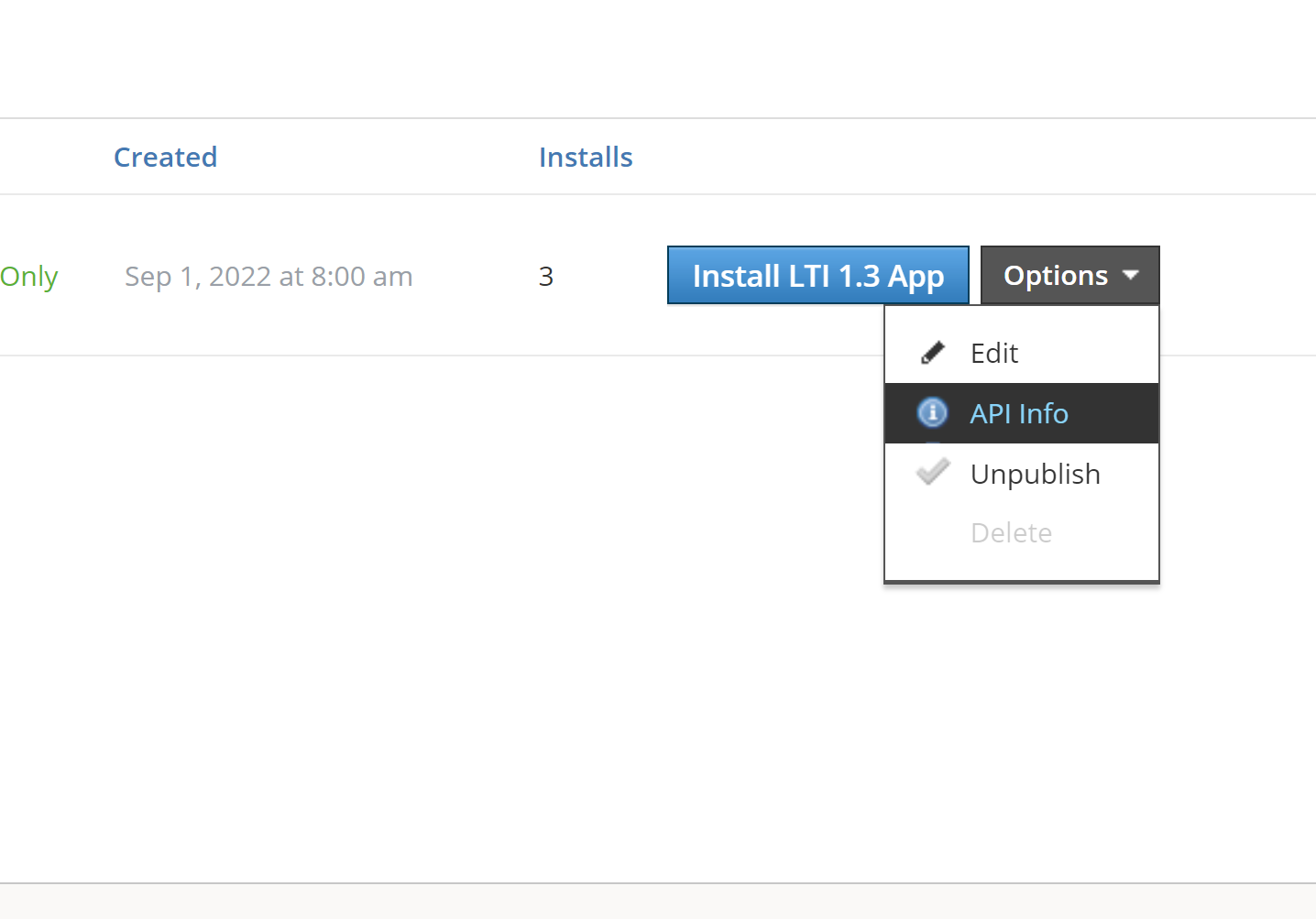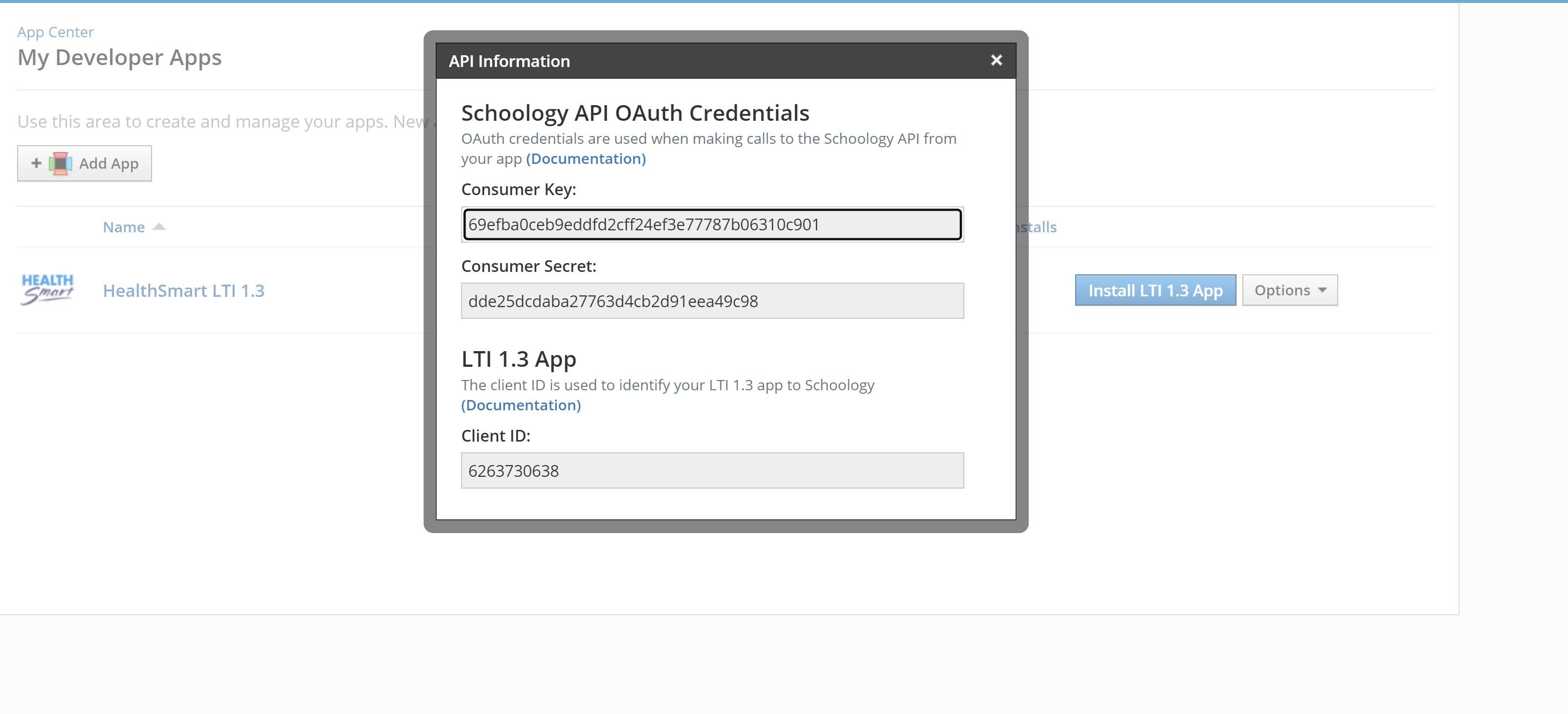 ❗Important: both the Client ID and Client Secret will need to be shared during the tech setup call with ETR as well as teachers when installing the HealthSmart app.
Step 8: Install the app where needed across the district (i.e. courses, buildings, etc.).

Final Confirmation: Congratulations, you're all set! Please schedule a 15-minute call with us where you will share the ClientID and run a test to launch HealthSmart. This will verify the correct integration setup and initiate the data sync which will take 24 hours to complete. To schedule the setup call, please contact support@etr.org.
---
Recommended Reading: